MARCH FOR SCIENCE – FULLERTON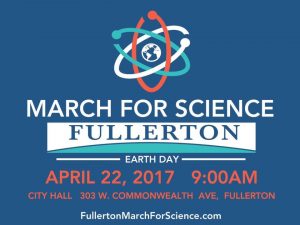 The Fullerton March for Science event will begin a 9 AM in front of City Hall 303 W. Commonwealth with a rally and some short speeches. Then we will start to march.
We will march north on Highland Avenue from City Hall, turn right onto Amerige Avenue, march east on Amerige to Harbor Blvd, then turn left onto Harbor Blvd, march north on Harbor to Chapman Avenue where the march will teriminate with a brief rally. The city wll provide staff to institute rolling traffic closures along the route, so that marchers can walk safely along the route streets.
Public restroom facilities are available at the Fullerton Community Center across Commonwealth from the City Hall (opens at 7:30 AM on Saturday) and at the Fullerton Library just west of City Hall (opens at 10 AM on Saturday.)
Special note for those with physical limitations: If you are unable to march we encourage you to continue to rally in front of City Hall following the program.