MARCH FOR SCIENCE – PASADENA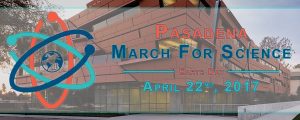 A march from Caltech by City Hall to Memorial Park for those who support science and the science community. This is a satellite March to the ones in DC, Los Angeles, and all over the world.
8:00-8:30am: Congregate at Beckman Lawn (sign making materials and light food will be provided; Free t-shirts for the first 100 people!)
8:30-8:45am: Welcome remarks with speakers
8:45-10:00 am: March to Memorial Park
10:00-10:15am: Closing remarks with speakers
9:30-11:00am: Outreach Fair with science booths for adults and kids
(Please feel free to join us for all or part of the event – many people will be boarding the metro and heading to Pershing Square for the Los Angeles March for Science, and many people will be staying local for our Outreach Fair).
We want this march to be inclusive of all: watch this space for more information about accomodations for people with mobility impairments.
This event is being organized by Caltech postdoctoral researchers, Caltech graduate students, and Caltech undergraduate students. It is sponsored by the Caltech Postdoctoral Association, the Associated Students of the California Institute of Technology (Caltech undergraduate student government), and the Caltech Graduate Student Council.