YOUR LOCAL CANDIDATES INFORMATION
The Pass Democratic Club has endorsed these local candidates for the 2022 Primary: 
25th Congressional District – Dr. Paul Ruiz

U.S. Representative Raul Ruiz, M.D., grew up in the community of Coachella, California, where both of his parents were farmworkers. Dr. Ruiz achieved his lifelong dream of becoming a physician through public education. After graduating from Coachella Valley High School, Dr. Ruiz graduated magna cum laude from UCLA. He went on to Harvard University, where he earned his Medical Degree, as well as a Masters of Public Policy from the Kennedy School of Government and a Masters of Public Health from the School of Public Health, becoming the first Latino to earn three graduate degrees from Harvard University. In 2010, Dr. Ruiz started the Coachella Valley Healthcare Initiative, which brought together stakeholders from across the region to address the local healthcare crisis. He has also worked internationally in the medical community.Dr. Ruiz continued his work as an Emergency Room Doctor until he was elected to the U.S. House of Representatives in 2012. He represents California's 36th District, which includes the entire Coachella Valley, as well as the cities of Banning, Beaumont, Blythe, Hemet and San Jacinto. Dr. Ruiz currently serves on the House Energy and Commerce Committee and the House Veterans' Affairs Committee. Dr. Ruiz also serves as chair of the Congressional Hispanic Caucus.  Read more.
41st Congressional District – Will Rollins
 
Will is a former federal prosecutor who focused on counterterrorism and counterintelligence cases in Southern California. He's from a family of Republicans and Democrats and is running for Congress because the attack on the U.S. Capitol underscored why America needs a new generation of leaders to end toxic divisions that threaten our democracy and prevent us from solving problems together. After attending Dartmouth and Columbia Law School, Will Clerked for two federal judges in California. He began tackling injustice as an Assistant U.S. Attorney, protecting the public from white-collar criminals, including a Ponzi scheme organizer who defrauded dozens of seniors out of their retirement savings, as well as a corrupt physician who sold opiates for cash. Will later joined the Terrorism and Export Crimes Section of the National Security Division, where he prosecuted an electrical engineer for conspiring to send microchips with missile guidance applications to China, Iranian nationals for violating U.S. sanctions on Tehran, a reported QAnon follower for an attack at the Port of Los Angeles, and some of the insurrectionists who attacked the US Capitol on January 6th. Read More.
47th Assembly District -Christy Holstege

As the Outgoing Mayor of Palm Springs, I have led the way on the most important issues affecting our daily lives:  building an economy that works for all of us, supporting and protecting workers and local businesses, investing in our local economy, continuing our progress on LGBTQ and civil rights, increasing access to healthcare and social services, leading on environmental issues, and enacting programs that have truly reduced homelessness in our region. And, on the city council, we have achieved real results for residents: approving hundreds of units of affordable housing, investing millions of dollars to build new housing, and securing $10 million of state funds for innovative housing and homelessness services. Read more.
5th Supervisory District – DeniAntionette Mazingo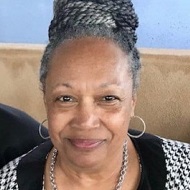 Since moving to Hemet, DeniAntionette Mazingo, has made countless contributions to the community, focusing on improving the lives of those less fortunate. As Third District Commissioner for Women, Deni established a program to educate young people about the dangers of human trafficking.
She is the president of Soroptimist International, "Hemet-San Jacinto" living out the organization's mission aiding women and girls, and developing programs leading to social and economic empowerment. She is a National Past President of Las Amigas Incorporated, whose mission is to enhance the quality of life and promote the general improvement within their communities. They accomplish this through educational programs, by providing non-perishable food items for those children who do not have access to nourishing food during the weekends, and by raising funds for scholarships and assist in raising funds for the Children's Defense Fund.
She is a lifetime member of VFW Auxiliary serving veterans throughout the world. And the vice president of Human Relations  DeniAntionette is also a member of Rotary International, assisting folks throughout the world.  As President of Ladies of Charity for San Bernardino Diocese, she initiated the street ministry to serve the homeless by providing meals, clothing and referrals to assist them getting off of the streets and living in their cars. Named 'The Woman of The Year' by CA Senator Mike Morrell in 2016, she is a  lifetime member of The National Council of Negro Women, first vice president of the Hemet Woman's Club, vice president member of The National Human Relations Council.
Deni graduated from Howard University School of Law with a Juris Doctor, and American University Washington College of Law earning an LLM and practiced law for (16+ years) in the Nation's Capital and now provides pro bono services to individuals unable to afford needed help.
Riverside County District Attory – Burke Strunsky

Judge Burke worked in the Riverside District Attorney's Office for 15 years, prosecuting murder, rape, child abuse, and human trafficking cases. He was named Prosecutor of the Year in 2008 and 2011, prior to getting elected to Judge. Judge Burke was even featured on Dateline and 20/20 for two separate successful prosecutions of a former police chief and a local pastor, both convicted of murdering their wives. On the bench, Judge Burke served in Drug Court, witnessing first hand the impact of mental health and addiction issues on public safety. He also served in Juvenile Court, and saw the impact of the overcriminalization of children and lack of societal support for those coming from the foster system, high crime, or high poverty areas. Read more
Judge, Court Office #11 – Laura Garcia

Laura Garcia serves as a Riverside County Superior Court Commissioner. After an extensive vetting process, Commissioner Garcia was elected to her judicial position by the Judges of the Riverside County Superior Court.   Commissioner Garcia previously worked as a Riverside County Deputy Public Defender for over a decade. She served as a Senior Trial Attorney in the Complex Litigation Unit protecting the Constitutional rights of those in need. She also served as the lead Juvenile Court Public Defender in Indio, where she addressed the unique needs of children in the justice system.
Her proudest service to the community has been advocating for children with disabilities. As the mother of a child with Down Syndrome, she has fiercely advocated for him while helping to guide other families in accessing services and appropriate education for their children.   As a Judicial Officer in the Riverside County Superior Court, Laura Garcia understands not only the importance of a fair and just legal system for everyone but also the importance of a legal system that reflects the community it serves.    Read more
Judge, Court Office #28 – Francisco Navarro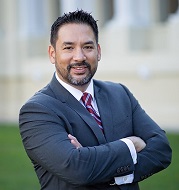 A more than fifteen-year veteran of Riverside County District Attorney's Office, Francisco Navarro began his legal career with one goal: to make Riverside County a community where residents can live, work, and play without fear or injury. He has spent his career keeping true to his promise of making Riverside County safer by working in the DA's Gang Unit, prosecuting cases involving homicide, robbery, drug sales, and witness intimidation.
Francisco has handled a depth of cases ranging from DUI's to homicides. As a gang prosecutor, Francisco has gained a thorough understanding of gang laws allowing him to serve as subject expert, educating law enforcement officers and colleagues on gang laws, gang trends, and the evolution of how gang cases are prosecuted. In his gang prosecutions, Francisco vigorously sought justice, but also offered advice to the defendant's family and friends on how they can help end the gang lifestyle. As a reflection of Francisco's breadth of knowledge and commitment, the District Attorney's Office has entrusted him to prosecute domestic violence, tribal gaming, white collar crimes, and Crimes Against Police Officers (CAPO) cases, and, most recently, assigned to the Public Integrity Unit where he prosecutes criminal misconduct at all levels of public service.
The son of hardworking immigrant parents, Navarro was raised by his mother and stepfather in Buena Park, California. 
Francisco resides in Riverside County with his wife Valerie and their two children. Read more